Floral expert, designer and founder of floral subscription box, Petal Post, Zoe Lamont, shares everything you need to know about Valentine's Day.
Red roses triple in price over Valentine's Day
Most red roses during the Valentine's Day period are imported and not grown in Australia.
Consumers are looking to support farmers by purchasing 100% locally grown blooms
Valentine's Day is not as stereotypical as before and flowers are purchased to show gratitude, friendship and self-love.
Eco-friendly, low waste options minus the plastic packaging are popular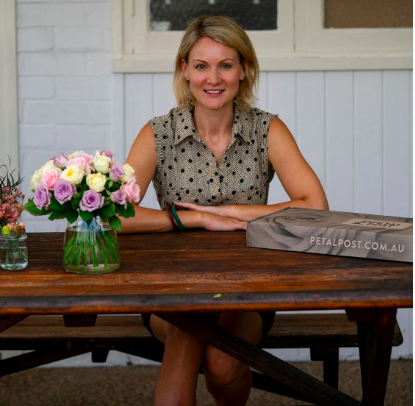 How to care for roses:
Remove any 'guard' petals that protect the bloom on its journey to you
Snap off any missed thorns
To extend the life of your local roses, snip the stem at an angle and place them in fresh water and in a clean vase
Keep your roses away from direct sunlight and away from the fruit bowl
Refresh the water daily and re-cut stems each time
About Petal Post:
Petal Post is Australia's first boxed flower company that offers eco-friendly, pre-arranged, proudly Australian grown flowers, as a gift and subscription service.
Founder, Zoe Lamont says: "At Petal Post we're inspired by nature's beauty. We deliver fresh locally grown botanicals, so you too can be inspired. We purchase to order directly from the growers, so your flowers are fresh and long-lasting.
Each week we select seasonal flowers & foliage that work beautifully when put together in an arrangement.  We lovingly pack them in our Petal Post boxes and deliver to your doorstep with flower information & styling tips, empowering you to express your creativity and elevate your space."
Petal Post founder Zoe ensures that respect is at the heart of the business. Zoe supports local Australian flower farmers and the earth by using only biodegradable and recycled materials.
Floral subscriptions can be purchased in Regular, Generous and Boost sizes. You can choose if you want to deliver flowers weekly, every 2 weeks or every 4 weeks and for how long you want to have flowers delivered for, ongoing, 3 months, 6 months or 12 months.
SheSociety is a site for the women of Australia to share our stories, our experiences, shared learnings and opportunities to connect.