Music lovers across Victoria are in for a treat this summer with the launch of Live At The Castle's summer concert series hosted at iconic Ballarat venue Kryal Castle and presented by ALWAYS LIVE.
Beginning at the end of November, Live At The Castle's summer series will feature a series of four outdoor concerts over a period of three weekends with performances including The Jezabels and Middle Kids, Taylor Swift tribute band Taylor Made, the much-loved Country Gold Music Festival, and a Maximum '80s show. With music sure to suit all tastes, the summer series will be the perfect opportunity to have a boogie and enjoy the warmer weather in the unique surroundings of Australia's only medieval theme park.
"The Castle is such an iconic location with the recent hugely successful Smashing Pumpkins shows really showing off what a unique experience live music at Kryal Castle is.", said Bart Hamilton, CEO of Kryal Castle.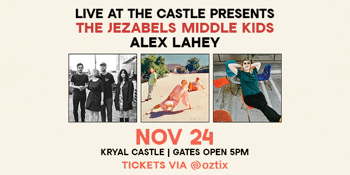 A night not to be missed, The Jezabels and Middle Kids will co headline on Friday 24th November alongside Melbourne artist Alex Lahey. Famed for their critically acclaimed album Prisoner, The Jezabels are one of Australia's greatest bands with incredible lead vocals from Hayley Mary. Indie rock icons Middle Kids will joining them to deliver an unforgettable night, hot off the release of their brand new single Highlands, as well as alternative rock artist Alex Lahey performing her solo set.
On Saturday 25th of November, Swifties who couldn't snag Eras tickets will love the Taylor Made show. Having three sold-out shows on the same weekend in Melbourne, Taylor Made features Alex the Astronaut, Charley, Clare Bowditch, Clementine Ford, Emily Wurramara, Kate Miller-Heidke, Lisa Mitchell, and Sophia J. Smith, playing all of the favourite Taylor tunes.
Finishing the second weekend on a high, The Gold Country Music Festival will run on Sunday 26th November with a variety of country-pop, rock, and blues sure to tickle every country music twang. With performances by sibling duo The Wolfe Brothers and 2022 ARIA award-winning artist Casey Barnes, as well as Andrew Swift, Taylor Moss, and Max Jackson, it will be a must-see show for all Aussie country music-lovers!
Ending the summer series on a high, get ready to groove back in time to the iconic music of the 1980s with the Maximum '80s show on Sunday 10th December. Relive the famed era of music with the 1927, Eurogliders, Mark Gable of Choirboys, Chantoozies, Sean Kelly of Models, Real life, Brian Mannix of Uncanny Xmen, Scott Carne Of Kids in the Kitchen, Fred Loneragan of Machinations and Steve Williams' Wa Wa Nee, playing all there massive 80s chart topping hits! A partnership between Kryal Castle and Horizontal Events, Live At The Castle's summer series will be the perfect musical escape for Aussies all over Victoria.
SheSociety is a site for the women of Australia to share our stories, our experiences, shared learnings and opportunities to connect.